Caricature: Reasons for Emigration (c. 1849)
Abstract
This 19th-century caricature depicts a bailiff in Southern Germany who fails to comprehend the local peasants' reasons for emigration.
The image caption reads: Bailiff: But folks, are there no means to make you stay?
Old peasant: Oh yes, Sir, if you leave, we'll stay.
Source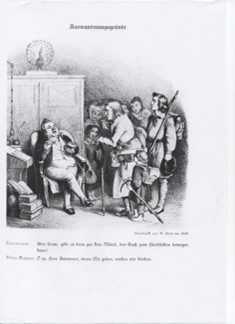 Source: Lithography by W. Steck, c. 1849. In: Herman von Freeden und Georg Smolka, Auswanderer: Bilder und Skizzen aus der Geschichte der deutschen Auswanderung (Leipzig 1937). Thanks to Dr. Helmut Schmahl, University of Mainz, for the reference.