Poster for the Café Odeon, Munich (1908)
Abstract
Ludwig Hohlwein's 1908 advertising poster for the Café Odeon in Munich defined difference through skin color. It played with the symbolic figure of the Black servant or Moor, who emphasized the superiority of the white German through his subordinate role. Difference and status were conveyed through physical stature, clothing, and body language: the diminutive waiter, with his upright posture and his proper uniform, is squeezed into the scene, whereas the casually and fashionably dressed consumer sits leisurely on the edge of the billiards table, seemingly entitled to the space that he occupies.
Source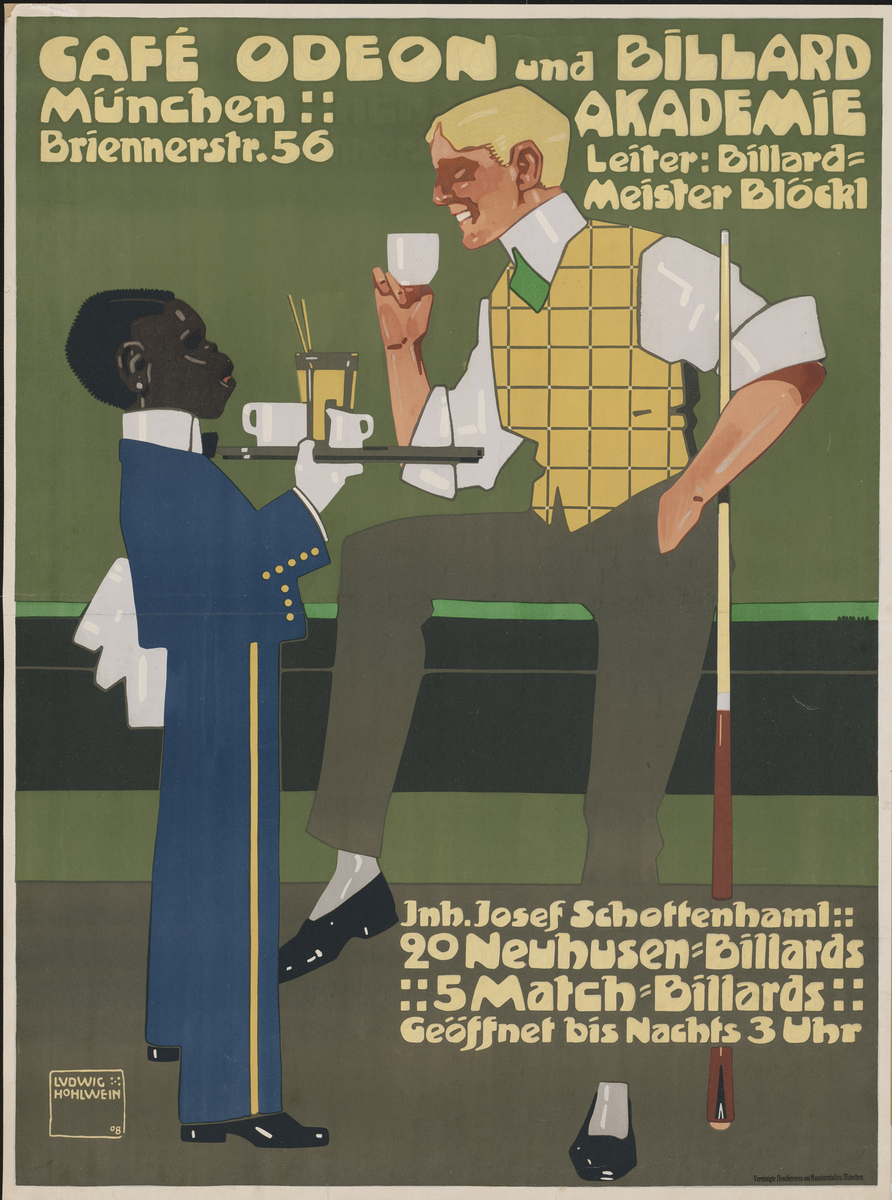 Source: Ludwig Hohlwein, "Café Odeon and Billiards Academy," 1908. Photo: Dietmar Katz. bpk-Bildagentur, image number 00083691. For rights and reprint inquiries, please contact Art Resource at requests@artres.com (for the US and Canada) or bpk-Bildagentur at kontakt@bpk-bildagentur.de (for all other countries).
This image is included in: David Ciarlo, Advertising Empire. Race and Visual Culture in Imperial Germany. Cambridge, MA: Harvard University Press, 2011, plate 18, pp. 212ff.
© 2019 Artists Rights Society (ARS), New York/VG Bild-Kunst, Bonn
Further Reading
Nina Berman, Klaus Mühlhahn, and Alain Patrice Nganang, eds., German Colonialism Revisited: African, Asian, and Oceanic Experiences. Ann Arbor, MI: University of Michigan Press, 2018.
Sara Friedrichsmeyer, Sara Lennox, and Susanne Zantop, eds., German Colonialism and its Legacies. Ann Arbor, MI: University of Michigan Press, 1998, pp. 107–24.
Bradley Naranch and Geoff Eley, eds., German Colonialism in a Global Age. Durham, NC, and London: Duke University Press, 2014.
Michael Perraudin, Jürgen Zimmerer, and Kate Heady, eds, German Colonialism and National Identity. New York: Routledge, 2011.